Pat Leon | Drums, Percussion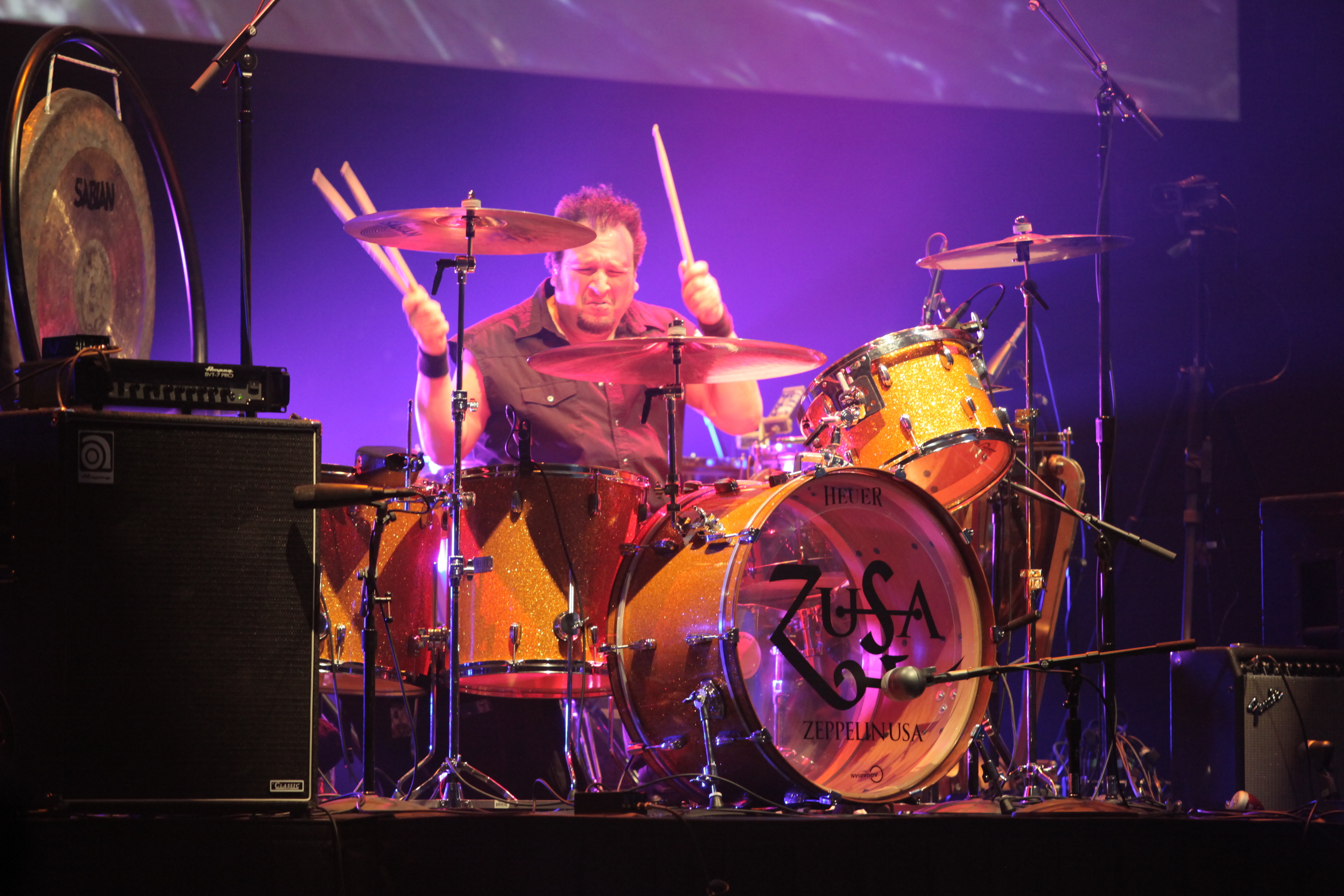 Pat started playing the drums at age 5 and soon became active in bands by age 10. In Jr. High School, Pat was fortunate enough to meet and have the famous teacher Chuck Wackerman as his Jazz instructor. It was even more fortunate that he also had all 4 years of High School with Mr. Wackerman as his advanced Jazz director as well as private drum teacher. Pat would then go on to study with world renowned drummer, clinician & teacher Chuck Flores.
After graduating high school he enrolled in the Jazz program at Fullerton College on a full music scholarship. There he would study with Allen Carter who became another huge influence. Other major influences are Chris Partridge, Dave Goode, Esteban, James E. Keegan & Jughead. World Class Drummers John Wackerman, Chad Wackerman & Greg Bissonette are also on Pat's roster of teachers.
Currently a top call show & recording drummer for Disney World Wide & drummer from Zeppelin USA: An American Tribute To Led Zeppelin, Pat also has a diverse body of work as far as styles & artists. He has been very fortunate to work, jam, record, tour or just share a stage with such artists as: Greg Walker (Santana), Roger Daltrey (TheWho), Reggie Boyd Jr. (The Staple Singers, Dolly Parton, Bob Marley), Kentucky Mark Meadows (Meredith Brooks, John Waite, Dweezil Zappa), Producer Scott Mathews (Keith Richards, Mick Jagger, Sammy Hager),  Frank Simes (The Who, Don Felder, Mick Jagger),  Lanny Morgan & Rob McConnell (The Boss Brass), Bill Watros, Gordon Brisker, ToeHead, Composer/Producer Timothy Michael Wynn, Composer/Producer Chris Lennertz, Untanda, Dream Of Eden, Brett Walker, Fab Four Live, Beatleshow Vegas, Lights: The Premier Tribute to Journey, Jim Nabors, Don Ho, Tony Orlando & Dawn and many other talented artists.
Some accomplishments as a session drummer include credits on Network shows The Young & The Restless, The Bold & The Beautiful, One Life To Live, All My Children, Dawson's Creek and Beverly Hills 90210. Educational projects Stand Alone Tracks improvisational skill builders Volumes 1 and 2. Cable Network film, sound track & score work for Cinemax, Showtime, HBO, Animal Planet, Discovery Channel and The Lifetime Network. You can hear Pat on the Marvel Comic's video game "The Punisher" & also the long awaited "Red Alert 3" video game. You can find Pat all over the score to the soundtrack from the 2005 motion picture "Partners" & the soundtrack to the 2006 film "White Air".
Endorsements: Heuer Drums, Aquarian Drumheads, Sabian Cymbals & Vater Drumsticks